Main content starts here, tab to start navigating
These Signatures are our best selling donuts!
Price subject to change.
Donut availability subject to change.
SINGLE DONUT
$2.75 - $3
HALF DOZEN DONUTS
$15
DOZEN DONUTS
$24
🍩 All You Need is Bacon
🍩 Grandma Annie's Boston Cream
🍩 Strawberry Fields
🍩 Mexican Hot Chocolate
🍩 Strawberry Fields
🍩 The C&C
🍩 Chocolate Dreamin'
🍩 John Lemon Pistachio
🍩 Groovy Pebbles
🍩 Coffee Lovers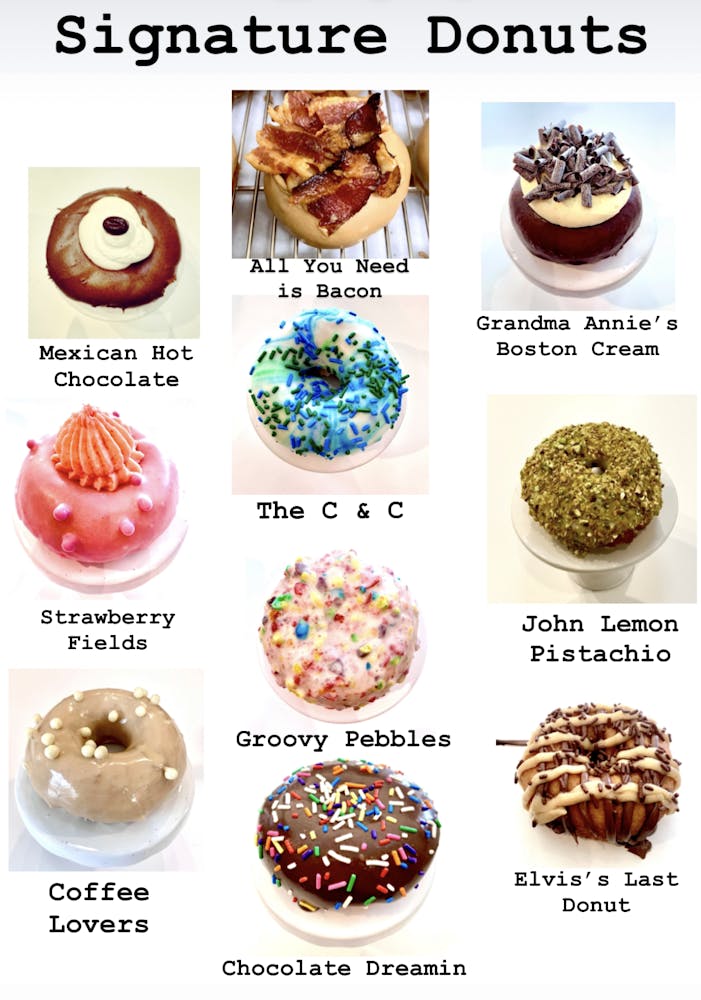 Classic and Gluten Free Donuts
SINGLE DONUT
Classic $2
Gluten Free $3.25
HALF DOZEN DONUTS
Classic $12
Gluten Free $18
DOZEN DONUTS
Classic $18
Gluten Free $30
CLASSIC

Bare

Cinnamon Sugar

Powdered Sugar

Chocolate Glaze

Original Glazed

Vanilla Glazed

Strawberry Glazed

Maple Glazed
GLUTEN FREE

Gluten free donuts are available and can be customized
Gluten Free need to be preordered for absolute best freshness!
Price subject to change.
Donut availability subject to change.
Customizable Donuts
Our donuts are made fresh everyday in house and we offer them until our daily batch sells out
SINGLE DONUT

Start your day right with a fresh donut

$2.75

HALF DOZEN DONUTS

Treat your friends and family

$15

DOZEN DONUTS

Great for the office or when you just gotta try them all!

$24
Glazes, Drizzles, and Toppings
Customizable donuts come with a choice of up to 3 of the following; additional are 50 cents each
GLAZES

Chocolate

Vanilla

Strawberry

Lemon

Maple

Coffee

Powdered Sugar

Cinnamon Sugar

DRIZZLES

Strawberry

Raspberry

Blueberry

Peanut Butter

Chocolate

Nutella

TOPPINGS

Fruity Pebbles

Cinnamon Toast

Sprinkles

Pistachios

Graham Crackers

Coconut

Bacon

Chocolate Chips

M&M's

White Chocolate Chips
All Donut cakes are made with our delicious vanilla cake donuts. All cakes consist of three layers of donuts. All cakes are decorated with homemade buttercream.-Our standard cakes come topped with two donuts on top and sprinkles. Customized with "Happy Birthday & Name."
**Our Donut Cakes are not your typical cake. These take more time and work. We need at least a 5 day notice for cakes. It could be longer due to the amount of orders at the time. Weekends fill up fast!**
Buttercream Flavor Choices:
Vanilla, Chocolate, Funfetti, Strawberry, Oreo, or Raspberry.
Cake Sizes :
-Mini ( 1-3 people): Our smallest cake that consist of 3 donuts.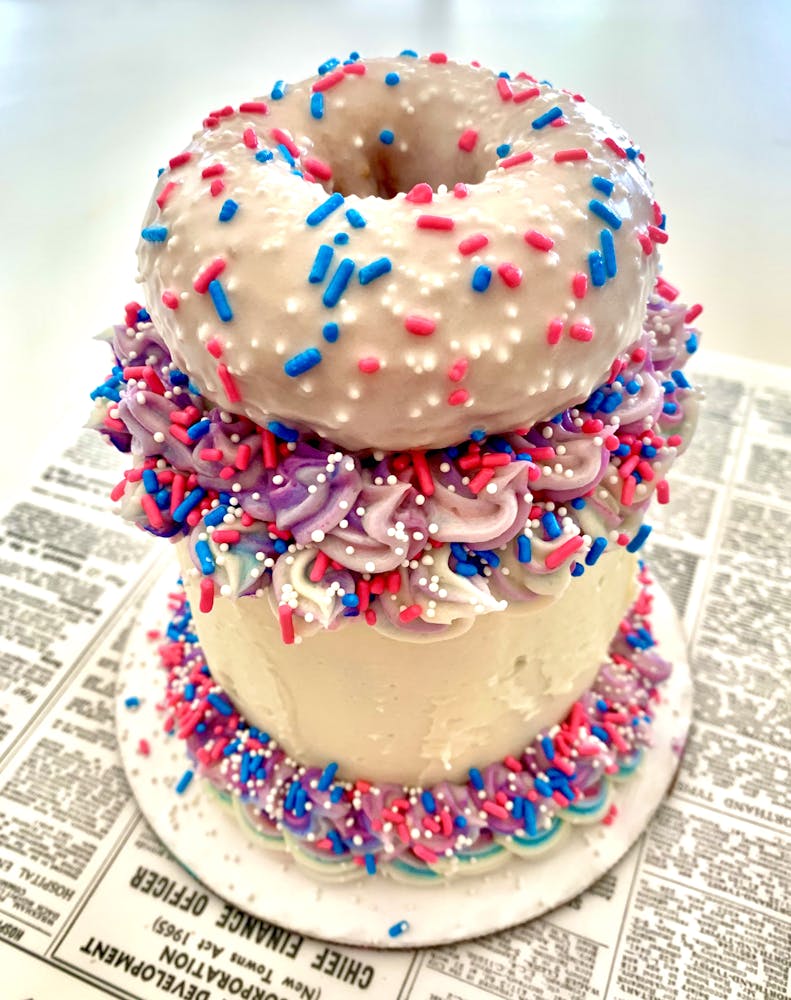 -7/8 inch Cake (8-10 people)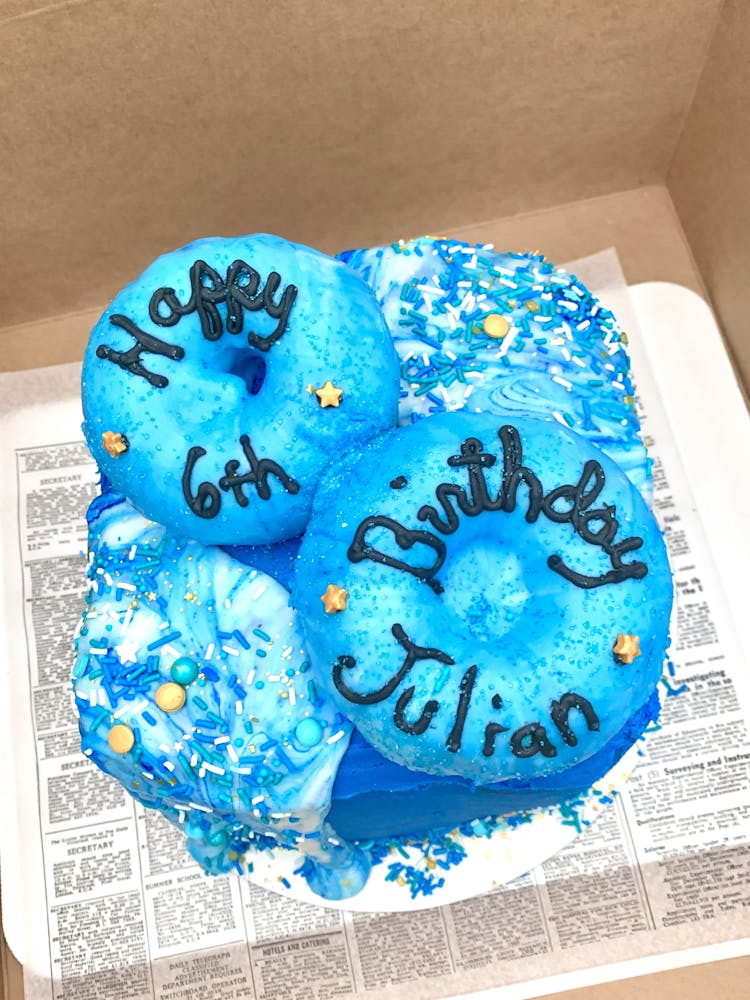 -10 inch Cake (15-20 people)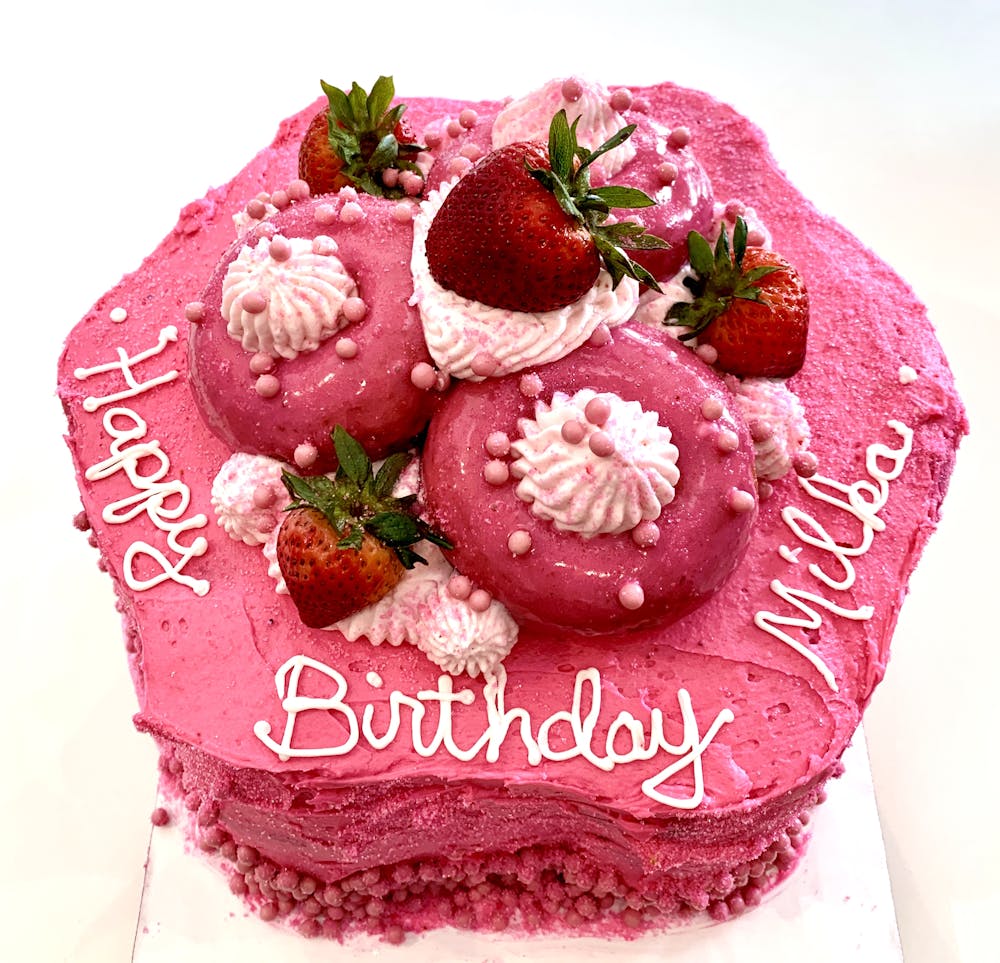 -12 inch Cake ( 20-25 people)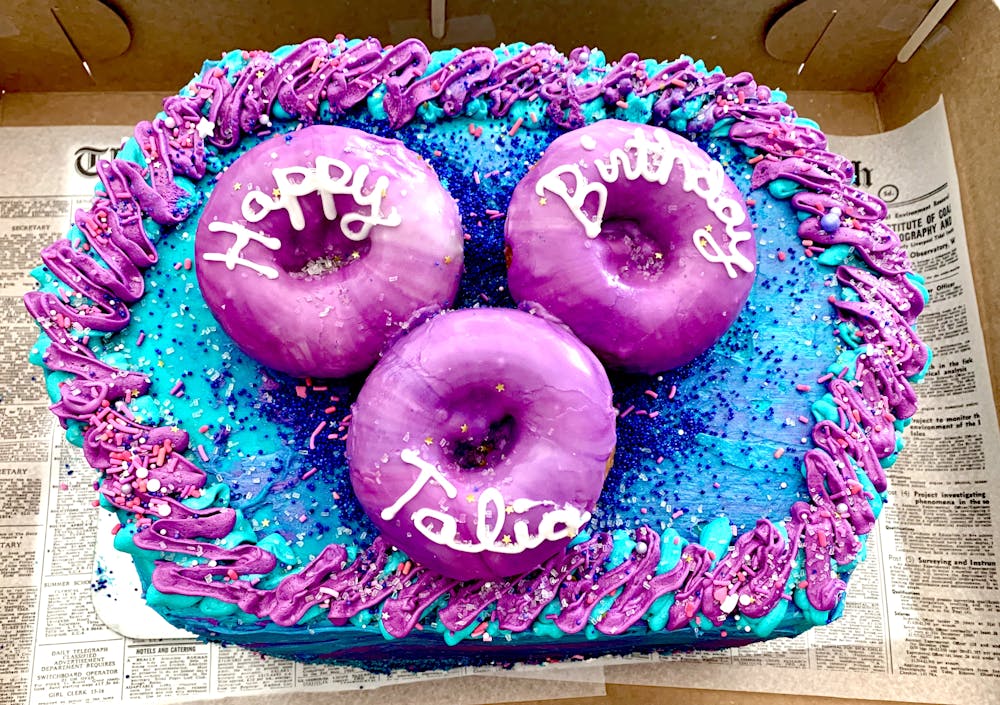 -Please inquire about larger cakes.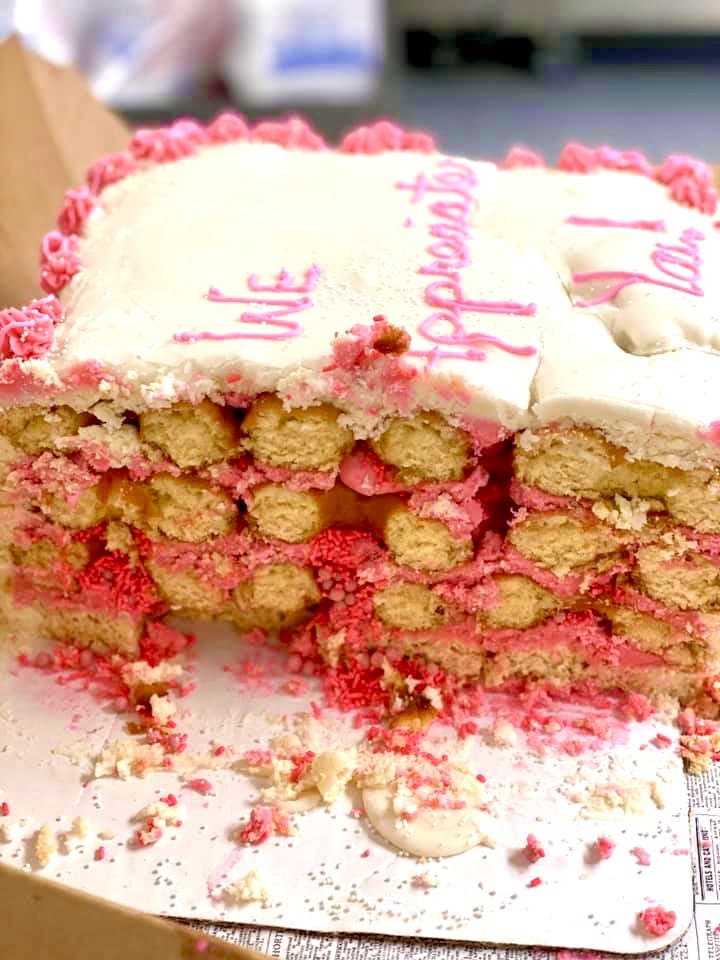 -Customized Cakes are available with Edible Imaging. Please inquire about customization.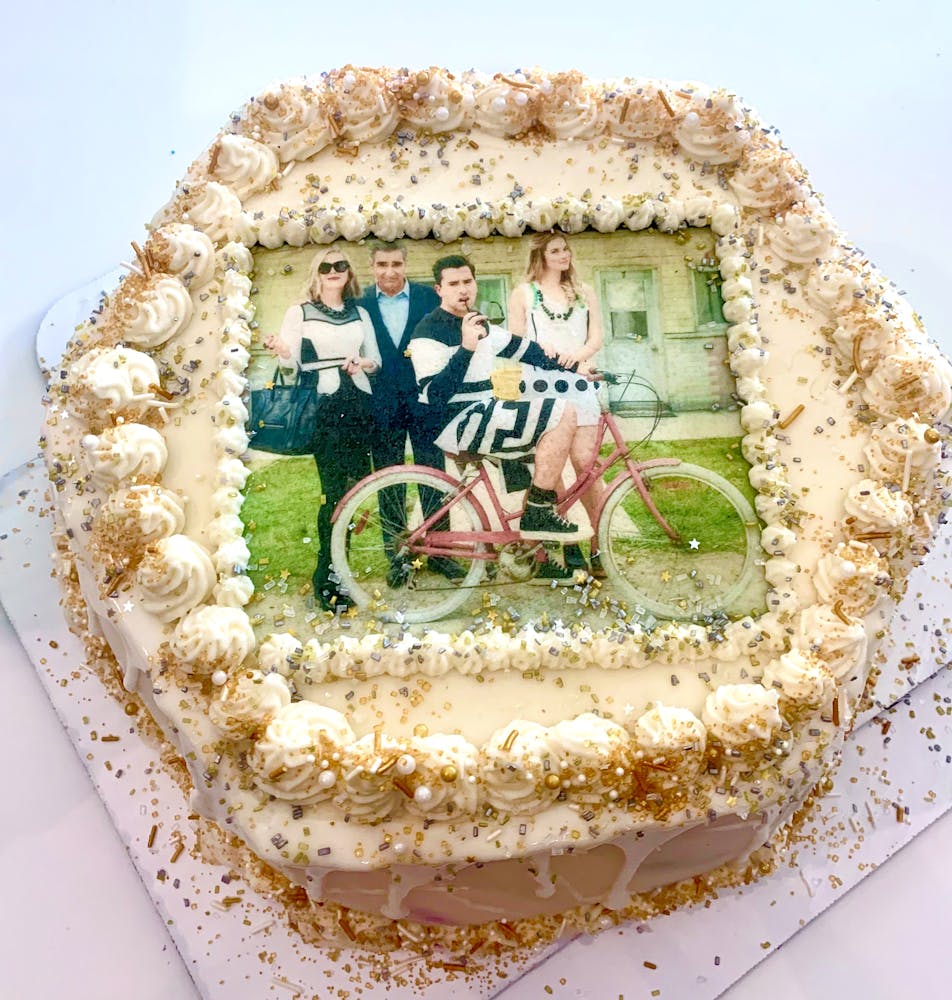 Custom Donuts : Available by 1/2 Dozen or Dozen only.
We can work with you to achieve what theme or event you are looking for.
Edible Images are available to be placed on donuts. The image needs to be emailed when order is placed.
-Edible Images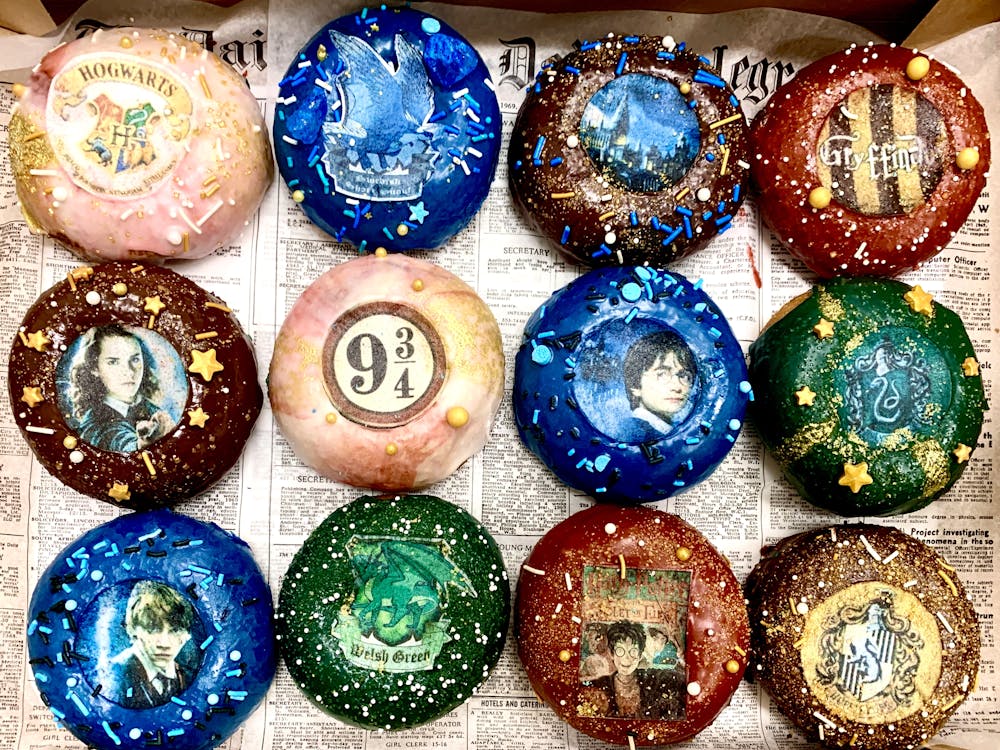 -Edible Images & Decor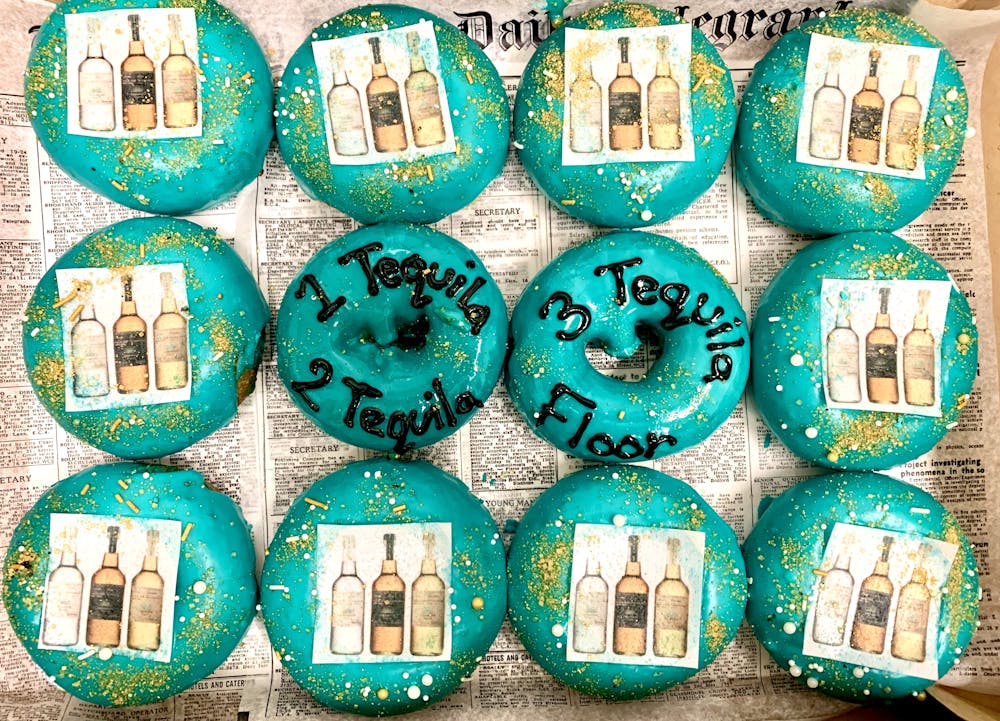 -Custom Decor Only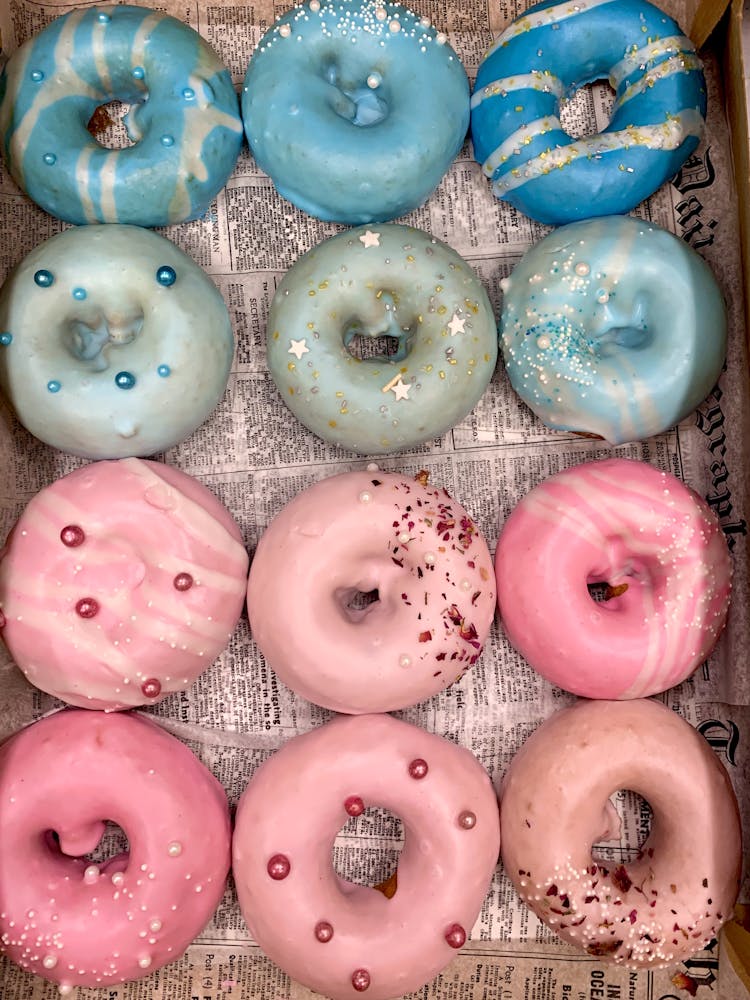 To order or if you have questions, please contact : Vicki@dipandsipdonut.com
**Custom Donut orders need to be placed 3 days in advance.**
*Prices are subject to change.*
**Dip and Sip Donuts is not responsible for coloration or spelling of words on edible images. Colors will not look the same as they do on your phone or computer screen. We use edible paper and edible ink. Colors will vary due to this. We use the exact image that is given to us. We only resize if image is too large.**
Download PDF
Coffee
Drip

12 oz $2.25

16 oz $2.75

20 oz $3.25

Espresso

$2.25

Cappuccino

12 oz $3.25

16 oz $3.75

Latte

Choice of whole, skim, almond, and oat milk; vanilla and caramel flavors are available

12 oz $3.25

16 oz $3.75

Almond Milk $0.50

Oat Milk $0.75

Mocha

12 oz $3.50

16 oz $4

Cold Brew

16 oz $4

20 oz $4.50
Tea
Hot

12 oz $2.25

16 oz $2.75

20 oz $3.25
Other Drinks
Regular Milk

Chocolate Milk

Apple Juice

Orange Juice

Bubly

$1.95

Bottled Water

Gatorade

Lemonade
Slide 1 of 5
Slide 2 of 5
Slide 3 of 5
Slide 4 of 5
Slide 5 of 5
Donut Wall Rental
All wood white wall; 45 pegs; holds up to 135 donuts, up to 3 donuts per peg.
Wall Rental

$200

Refundable Deposit

Refunded if wall returned in same condition

$175
Donuts
Simple Glazes & Sprinkles

Less than 8 dozen: $24 per dozen

8 dozen or more: $21 per dozen

12 dozen or more: $18 per dozen

Edible Images & Fondant

Less than 8 dozen: $36 per dozen

8 dozen or more: $30 per dozen

12 dozen or more: $24 per dozen
Drinks
Coffee Carafe

96 oz and good for 8-12 people; each carafe comes with 12 individual 8 oz coffee cups, assorted sugars and sweeteners, milk, stirrers, and napkins

$17.95
Slide 1 of 7
Slide 2 of 7
Slide 3 of 7
Slide 4 of 7
Slide 5 of 7
Slide 6 of 7
Slide 7 of 7